55% of B2B marketers say it is unclear what effective content marketing looks like at their organizations. Is your company one of them?
This was one of the key highlights of the sixth annual B2B Content Marketing: Benchmarks, Budgets, and Trends report from Content Marketing Institute (CMI) and MarketingProfs released last week. Content marketing effectiveness emerged as the key theme for this year's study.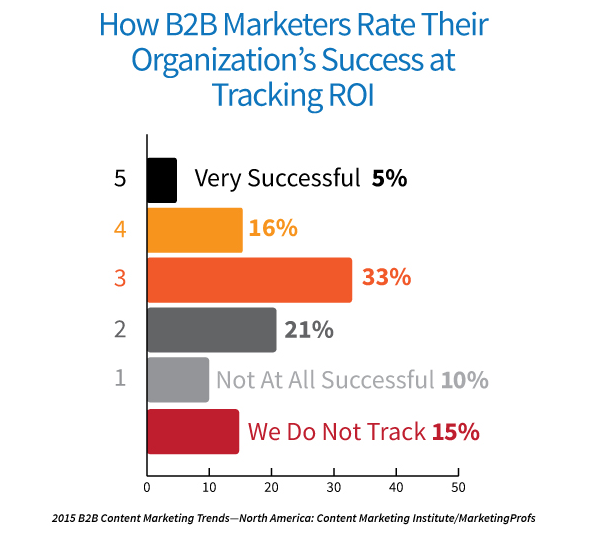 Only 44% of B2B marketers responded that their organizations are clear on what content marketing effectiveness or success looks like. And when asked to rate the effectiveness of their organization's use of content marketing, only 30% say they are effective with B2B Content Marketing, which is down from 38% last year.
The research found that there are four key things that the most effective content marketers are doing differently compared to their peers:
Communication And Documentation Are Key To Content Marketing Success
61% of most effective B2B marketers say their teams meet on a daily or weekly basis to discuss progress and results of their content marketing activities. More than 50% of respondents say they find their internal content marketing meetings very or extremely valuable in helping their organizations become more effective at content marketing.
While many studies in the past have shown the positive impact that documenting their content marketing strategy has on content marketing success, only 32% of B2B marketers reported that they document their marketing content strategy.
Content marketing success also increases for organizations who have a documented editorial mission statement. 48% of the most effective B2B marketers say their organizations document their editorial mission statement.
Which Social Media Channels Do B2B Marketers Use Most?
94% of B2B marketers say they use LinkedIn to distribute content, followed by Twitter (84%), Facebook (84%), and YouTube (74%). Google+, SlideShare and Pinterest usage all decreased compared to last year's numbers, leaving Slideshare still one of the biggest opportunities in B2B content marketing. Instagram use, on the other hand, increased by 5% this year, from 24 to 29%.
B2B Content Marketing Budget Expected To Increase
There is a correlation between effectiveness and the amount of budget allocated to content marketing. On average organizations spend 28% of their total marketing budget on content marketing, but the most effective B2B marketers allocate 42%. More than half of B2B marketers say they plan to increase their content marketing budget in the next 12 months.
Top B2B Content Marketing Priorities And Challenges
The top three content marketing priorities identified by B2B marketers are creating more engaging content (72%), gaining a better understanding of what content is effective (65%), and finding better ways to repurpose content (57%).
I have talked a lot about visual storytelling as the future of content marketing, so it is no surprise that visual content is becoming a top priority for marketers, coming in at number four (51%). Illustrations and photos also saw the biggest jump in content marketing tactic usage, from 69% last year to 76% this year.
The number one content marketing challenge faced by B2B marketers remains producing engaging content (60%), followed by measuring content effectiveness (57%) and producing content consistently(57%).
Some other interesting stats from the report:
Search engine marketing (SEM) remains the top paid advertising method B2B marketers use to distribute and promote content, and is voted the most effective promotion tactic.
85% of B2B marketers say lead generation is the most important goal for their organizations, followed by sales (84%) and lead nurturing (78%).
Sales lead quality (87%), sales (84%), and higher conversion rates (82%) are the three most important metrics organizations use.